We are incredibly proud and honored that our website www.pintrip.eu has been nominated for an European award.
We are nominated in the category Rising Stars.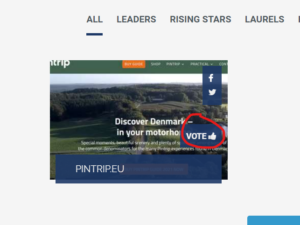 Voting has already begun and we need your help to reach the final, which will take place in Sicily in October this year.
The final will be held in Taormina in the ancient Roman amphitheater, a truly amazing location.
YOU can help us by voting for us no later than the 5th of August 2021. You can easily vote by clicking the VOTE button via the link below.
REMEMBER – YOU CAN VOTE FOR US ONCE EVERY DAY UNTIL OCTOBER 5.