Contact
---
We hope that you will have unforgettable experiences with Pintrip. As a Pintrip guest you are part of a completely new travel concept in Denmark.
We always strive for improvement and your feedback matters a lot to us.
Best wishes of a great trip
Henriette & Peter Rask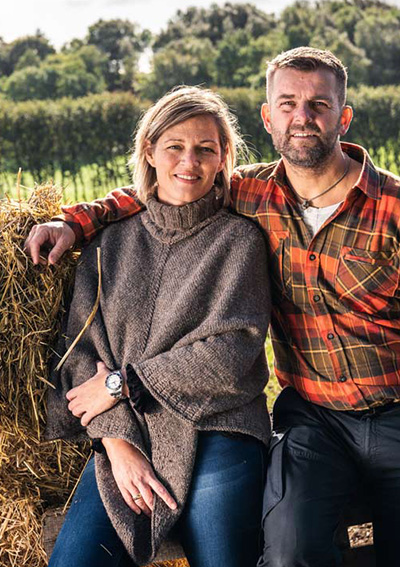 Kontakt os
---
Vi håber, at du får uforglemmelige oplevelser med Pintrip. Som Pintrip gæst er du en del af en helt ny rejseform i Danmark.
Vi bestræber os hele tiden på at blive bedre, og din tilbagemelding betyder meget for os.
De bedste rejsehilsner
Henriette og Peter Rask
Frequently asked questions
How long is the guide book and windscreen sticker valid?
The membership is always valid for a year. This year the period is from 31 March 2019 to 31 March 2020 and includes the Pintrip windscreen sticker you put in your windshield of your motorhome as proof of a valid membership. 
Can I bring my dog?
Dogs are allowed at 90% of our hosts. Dogs must always be kept on a leash. Please note that not all sites welcome dogs. Use the guide to know the important information and restrictions from the hosts.
How do I dispose black and grey water?
In the book we guide you to sanitation stations in Denmark. Many hosts do not provide facilities for filling up or emptying, therefore you should not turn up with empty water tanks and full waste tanks. Make sure to have a well-functioning toilet in your motorhome as only a few places offer this service.
I can't announce my arrival - what do I do?
If your host prefers a call before arrival and they don't answer the phone, you should find another stop for the night.
Which services are available?
Service facilities like filling up water tanks as well as baths, toilets and wifi are available at small amount.
Is Pintrip only for motorhomes?
Yes, the Pintrip-Guide is exclusively for motorhomes.